In the heart of East Africa, Tanzania is budding with the promise of growth and sustainability. The quest for renewable energy solutions that align with the nation's developmental goals has never been more pressing. Leading this charge is Gadgetronix, a distinguished distributor of innovative energy products in Tanzania. Among the myriad of solutions Gadgetronix brings to the table, Ecoflow emerges as a beacon of innovative, efficient, and sustainable energy solutions. Ecoflow products are not only tailored to meet the demands of modern-day energy needs but are also committed to propelling Tanzania into a future of energy independence.
Ecoflow, a trailblazer in portable power technology, presents a range of products designed to offer a seamless transition to renewable energy so you can always stay powered on.
River 2 Series: Versatile portable power
The EcoFlow RIVER 2 Series are sleek, portable lithium battery stations tailored to power and recharge your 220V devices and appliances with utmost efficiency boasting up to 768Wh | 800W output capacity. They offer diverse charging avenues, from USB and AC 220V to 12V DC. Ideal for professionals, avid travelers and campers, the EcoFlow RIVER 2 Series stands out as a silent, eco-friendly power alternative, eliminating dependence on the grid. The EcoFlow RIVER 2 models are designed to power a variety of equipment including small appliances, electronic devices, and lights. It's suitable for outdoor adventures, camping, power outages, or anywhere you need portable power.
Check for more details & pricing information regarding the EcoFlow RIVER 2 Series
Delta 2 Series: Ultimate power backup
Scaling up in capacity and features, the DELTA 2 Series exemplifies the essence of high-performance portable power backup. With a faster recharge rate and a larger battery capacity expandable from 1 to 25 kWh and AC output of 1800W to 7200W, they are tailored for those requiring a more substantial power solution. The EcoFlow DELTA 2 Series is capable of powering a range of appliances and devices including laptops, refrigerators, power tools, and other electronics. It's suitable for outdoor activities, emergency backup power, small business use, and anywhere a portable and substantial power solution is needed. With its high-capacity battery and fast charging capabilities, the DELTA 2 Series ensures you stay powered all the time.
Check for more details & pricing information regarding the ECOFLOW DELTA 2 and ECOFLOW DELTA PRO
Smart Generator: Dual fuel
The EcoFlow Smart Generator (Dual Fuel) runs on gasoline or LPG, offering flexible power solutions. With a 20kWh capacity on a standard LPG tank and up to 1800W output on gas, it's a reliable backup for homes and businesses. As part of the EcoFlow ecosystem, it pairs with other units for higher power output up to 7200W, embodying efficiency and reduced emissions, making it a practical choice for diverse power needs. With a 4L gasoline tank, you can generate 5.4kWh in gasoline or even 20kWh with LPG (depending on the size of the tank). That gives you hours up to 12.5 hours of runtime with LPG alone.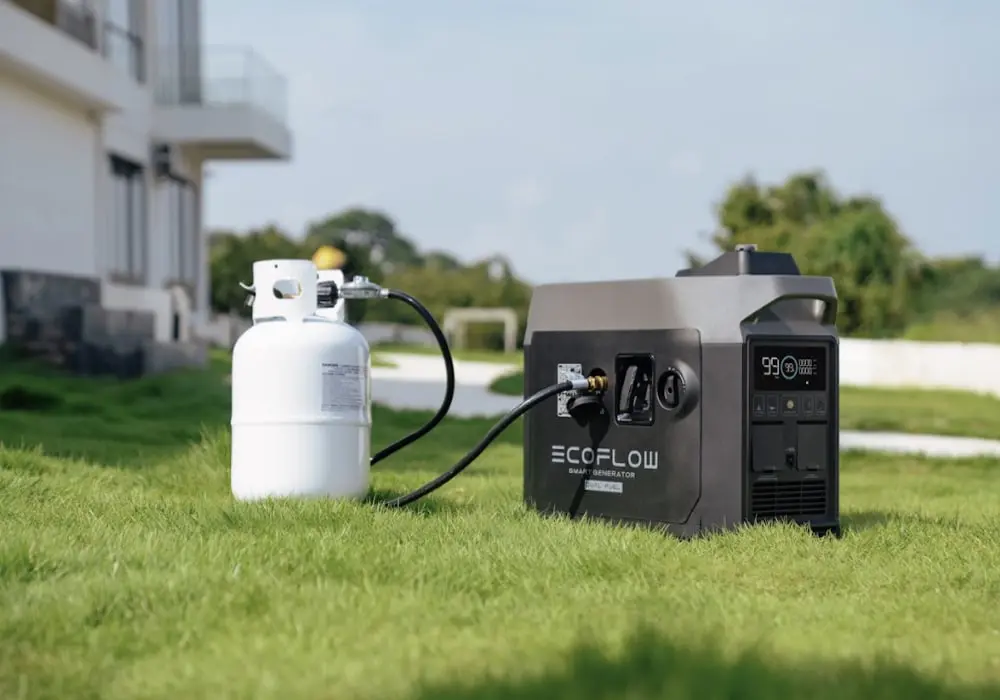 Check for more details & pricing information regarding the ECOFLOW SMART GENERATOR
Glacier: Chill on the go
The EcoFlow Glacier Portable Refrigerator is your go-to cooling companion, capable of producing 18 ice cubes in just 12 minutes and cooling down 30°C in a mere 15 minutes. Pair it with EcoFlow's power stations like RIVER or DELTA Series for extended cooling, up to 3 days and 176 hours respectively. It's not just a fridge, but a remarkable blend of efficiency and portability, ensuring your perishables stay fresh wherever you go​. The EcoFlow GLACIER Series is suitable for a variety of scenarios where portable cooling solutions are needed. It's ideal for outdoor adventures, camping, boating, RVs, and off-grid living.
Check for more details & pricing information regarding the ECOFLOW GLACIER
Wave 2: Portable Air Conditioner
The EcoFlow Wave Portable Air Conditioner is a small yet powerful unit, offering 4000 BTU cooling capacity and 6100 BTU heating, making it a versatile choice for varying climates​​​. With its intelligent Eco Mode, it extends run times by smartly switching between fan and cooling settings. It's easy to fit anywhere and provides up to 8 hours of comfort with an add-on battery, making it a convenient choice for both indoor and outdoor use. The EcoFlow WAVE 2 It's ideal for use in small to medium-sized rooms, RVs, tents, or any area where cooling or heating is required. With its portable design, it's also well-suited for individuals on the go, providing comfort during camping trips, outdoor events, or in temporary living spaces.
Check for more details & pricing information regarding the ECOFLOW WAVE 2
Power Kits: Off-grid power independence
EcoFlow Power Kits are compact, modular power solutions perfect for homes and EVs, offering easy customization of your energy setup. With capacities ranging from 5kWh to 10kWh and a plug-and-play design, these kits provide AC and DC outputs to power all your essential appliances. They offer multiple charging methods including solar, vehicle alternator, AC power, and smart generator input, ensuring you stay powered all the time.
Check for more details & pricing information regarding the ECOFLOW POWER KITS
Conclusion
Ecoflow presents a range of solutions pivotal to Tanzania's renewable energy transformation. Each product advances sustainability and energy efficiency, positioning Ecoflow as a key player in Tanzania's path to energy autonomy. Through Gadgetronix, accessing Ecoflow's pioneering product range is a leap towards an eco-friendly, self-reliant energy framework, essential for ushering Tanzania into a greener tomorrow.